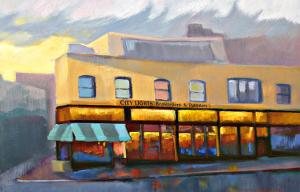 To be able to express the colors and mediums used is a fine thing. It's many years that I couldn't write or focus on a running journal to explain what colors and mediums I used to turn out a large number of paintings. Given 50 years of trial and error, I have stumbled onto Robert Gamblin's website. It is beautifully written, clearly laid out, and so I highly recommend this for study. My blog here will dwell on how I fared when following his advice.
http://www.gamblincolors.com/navigating.color.space/index.html

I am collaborating with James Water on new concepts and compositions, on very large canvases.